About UniMax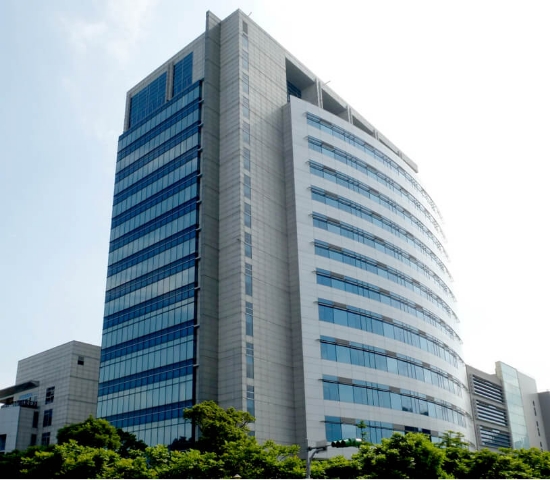 UniMax Electronics Inc. is a professional automotive electronics design and manufacturing company, fully-owned by ASUS Group. The company leverages world-class research resources to develop high-quality, cutting-edge technology that customizes and enhances in-vehicle digital experiences for customers everywhere. By integrating ASUS Group resources and leading-edge solutions, UniMax has a goal of expanding its OE supply chain to international automobile makers while firmly establishing itself as a global pioneer of innovation in the automotive electronics and manufacturing industry.
Professional Supply - A Tier 1 and Tier 2 Professional Supplier of Automotive Electronics
UniMax, a Tier 1 and Tier 2 professional supplier, provides reliable automotive electronics solutions including design, manufacturing, accreditation and after-sales service; we provide carmaker customers with the most competitive custom-made automotive electronics components.
By designing and manufacturing a wide range of automotive electronics components, UniMax can provide customers with comprehensive solutions that answer an overall framework of the in-vehicle electronics products featuring HEAD-UP DISPLAY(HUD), Car Dashboard, Biometric Detection, Digital Video Recorder(DVR), In-Vehicle Infotainment (IVI) SYSTEM, Gesture Control Solution, Wireless Charger, Wi-Fi Child Presence Detection(Wi-Fi CPD), etc. Particularly, along with most products adopted by some leading global automobile manufacturers, we have abundant experiences working with them by providing good quality and reliability as well as custom-made high flexibility.
Outstanding Quality- Obtained the certification such as IATF 16949
UniMax and the ASUS Group have obtained IATF 16949, the International Standard for Automotive Quality Management System; including the design and development, product, installation and services, we have met the requirements set by IATF 16949. Therefore, with our assurance of recognized quality management capability, we are entrusted by our clients with their requirements for automotive electronics.
Meanwhile, UniMax and the ASUS Group have also obtained a lot of certifications, such as QC080000 Hazardous Substance Process Management (HSPM) System, ISO 9001 International Standard of Quality Management System (QMS), ISO 14001 International Standard of Environmental Management System (EMS), OHSAS 18001 Occupational Health and Safety Assessment Series, ISO 14064-1 the Quantification and Reporting of Greenhouse Gas (GHG) Emission and Removals, ISO 17025 International Standard for Testing and Calibration Laboratories, ANSI/ESD S20.20 Electrostatic Discharge (ESD) Certification, ISO13485 Medical Devices Quality Management System, IPC QML Inter-Process Communication (IPC) in Qualified Manufactures Listing (QML), etc. Based on environmental sustainability, we provide our carmaker customers with safe and reliable automotive electronics products.
Product with Excellent Quality - Meeting a Wide Range of Rigorous Certification Standards
In addition to obtaining numerous certifications in manufacturing, the in-vehicle electronic products that UniMax provided for its clients have also met the rigorous certification standards, such as the Qi-certified wireless charger by Electronics Testing Center, Taiwan (NCC) and the Bureau of Standards, Metrology and Inspection (BSMI), it meets the CISPR 25 CLASS 3 requirements and other certifications to ensure that UniMax in-vehicle wireless chargers with their functionality and safety won't interfere with other devices; and the IVI System that has passed the certification of Toyota Genuine Accessory is installed in some Toyota car models with its certified car grade materials and standard operating procedure, good-quality and reliability; and, CE/E-Mark certified HUD, meet health, safety, and environmental protection standards for vehicle products sold within the European Economic Area as well as parts noise and emissions standards of the locomotive and spare parts. Other than numerous certified products to be mentioned, UniMax automotive electronic products can meet the client's rigorous requirements for accreditation.
ASUS GROUP - Solid R&D Team
Unimax Electronics Inc. is a 100% fully-owned subsidiary of ASUS Group, capable of bringing the abundant resource advantages of the ASUS Group into full play. The ASUS Group is a global technology leading company with more than 14,500 employees. We have a solid R&D team and rich R&D experience.
Taking the certification EMC required for electronic products as an example, the ASUS Group has gathered top talents to form a team of EMC experts and has jointly participated in the cooperation projects of many international automobile makers of Unimax Electronics for many years and has solid EMC experience in automotive electronics, capable of proposing professional strategic solutions through accurate EMC test data and rigorous analysis.
The overall and coherent R&D process can always meet the expectations of automobile maker customers in the more stringent requirements for automotive electronic products, making the ASUS Group Unimax Electronics a reliable supplier for its automobile maker customers.
Core Brand Identity- TRUSTABLE and RELIABLE
"Trustworthy" and "Reliable" are the mission and vision committed by Unimax Electronics. We strive to achieve the commitment given to customers. We hold fast to the confidential documents delivered by customers. Every member of Unimax Electronics is a part of a "trustworthy" group to its customers; we have a lot of experience cooperating with automobile makers, with top technology talent teams and abundant resources of the ASUS Group so that we can become the most "Reliable" automotive electronics supplier for customers, helping customers to achieve their desired goals.
Brand Position- Innovating for Car
UniMax has adhered to the position of "Innovating for Car" through the product launches, such as the 7-in-1 in-vehicle computer launched in 2010, the in-vehicle multimedia player launched in 2011, the first in-vehicle theater of the industry launched in 2012, Toyota iQ car's built-in Sun Moon Lake cloud-based AI navigation system in 2013, world's first portable in-vehicle computer launched in 2015, which is a certified Toyota Genuine Accessory and a built-in device in some Toyota car models, and the in-vehicle infotainment (IVI) system launched in 2017. Currently, with continuous innovation and quality assurance, UniMax has developed a lot of good-quality innovative products beyond customer expectations, and most of them have been adopted by numerous international car manufacturers.
To sum up, UniMax is rooted in Taiwan with a global perspective, and it has been the original equipment (OE) supply chain of major vehicle manufacturers. With the research and development operations are headquartered in Taiwan, we've been actively connecting international vehicle manufacturers by developing innovative car technologies on the way, marching to a benchmarking enterprise.
Milestones.
Launched Wi-Fi Child Presence Detection
Launched Flat type AR HUD(MAVE)
Launched Driver Monitoring System
This HUD has been adopted by a well-known Japanese tier1 supplier
Became a qualified supplier to Cowin carmaker
IVI systems has entered Hyundai Taiwan's supply chain.
Wireless Charger has entered NISSAN Taiwan's supply chain.
Gesture Control has entered CHERY China's supply chain.
Launches smart mirroring and back control IVI system.
Launches Toyota Intelligent System (detachable tablet-based solution) for Wish and Prius C.
Intelligent Navigation System has been designed for Toyota iQ cars.
World's first in-vehicle media streaming box has been introduced to the market.
In-vehicle multimedia box has been introduced to the market.
7-in-1 2DIN head unit has been released.
Unimax was estibalished as in indenpendent company.
Quality
Quality Certification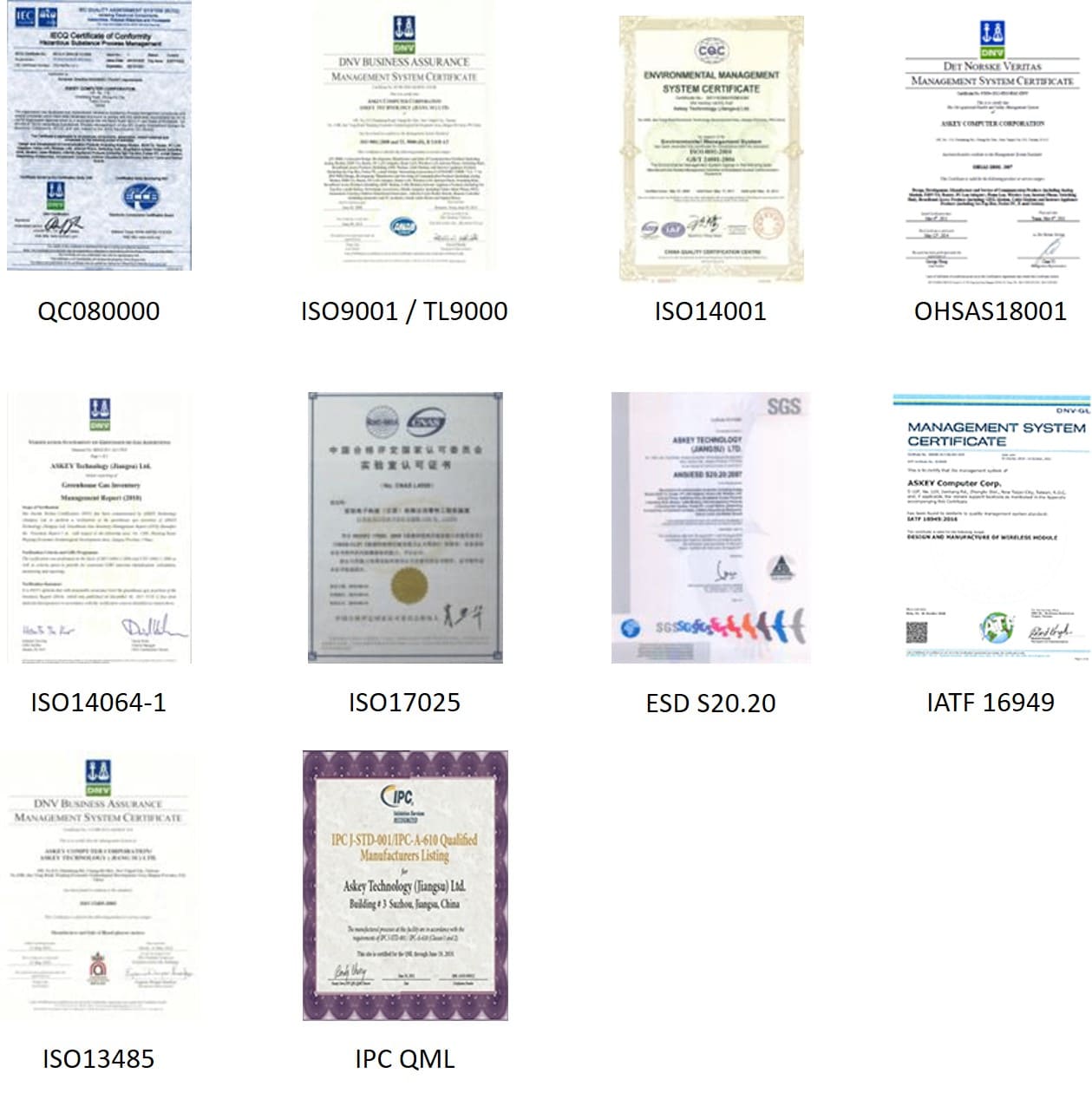 D-U-N-S® Certification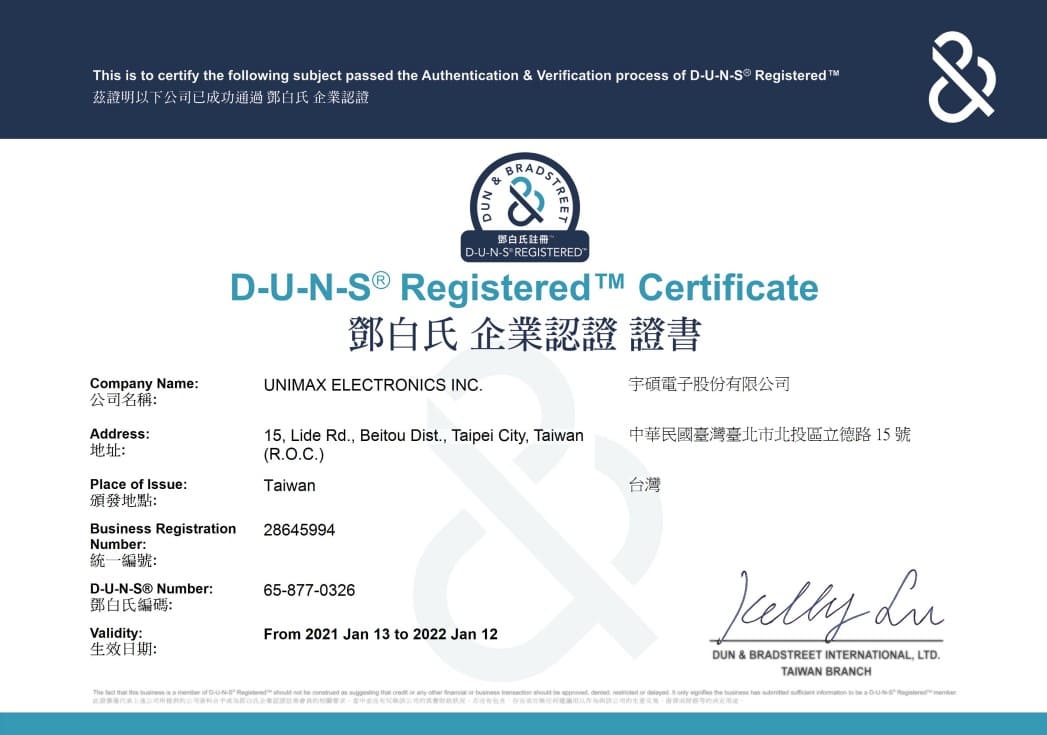 Manufacturing
Test & Verification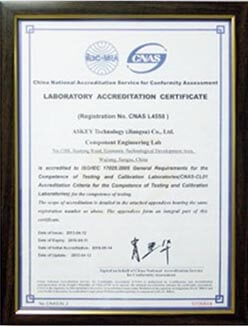 ISO/IEC 17025
Laboratory Accreditation Certificate
Test and Verification Center Laboratory Services
- With ISO/IEC 17025 certificate, the laboratory services cover a wide variety of tests/analysis aiming to assure and improve the design and quality.
Material
- RoHS Compliance
- Halogen Free Compliance
- Other Restricted Substance Test
Product Reliability Test
- Environment Reliability Test
- Mechanical Reliability Test
- MTBF Prediction & Demo MTBF
- Reliability Failture Analysis
Component Analysis
- Component Level Failure Analysis
- Component Quality Verification
- Component Reliability Test
- Dimension Analysis
Test & Verification

Component Analysis
- Equipments: ICP-OES, GS/MS, UV-VIS spectrometry...

Visual Inspection
- Equipments: 3D Scanner, Optical Miscroscope, Metallographic microscope

Physical Analysis
- Equipments: SAM, X-ray Tester, Curve Tracer, SEM...

Solderability Analysis
- Equipments: Cross Section, Grinding & Polishing, Microscope...
Lab Capability - Products



TMechanical Reliability Test Equipments:
- Drop Tester
- Vibration Tester
- Mechanical Shock Tester
- Compression Tester
- Tumble Tester
- Key Life Tester
- Abrasion Tester
- Skill Simulation Endurance Tester
Environment Reliability Test Equipments:
- Humidity/ Temperature Chamber
- Thermal Shock Tester
- Salt Mist Tester
- Dust Proof Tester
- Water Proof Tester...